Kitchen Spray Cleaner, Oil Clean Solution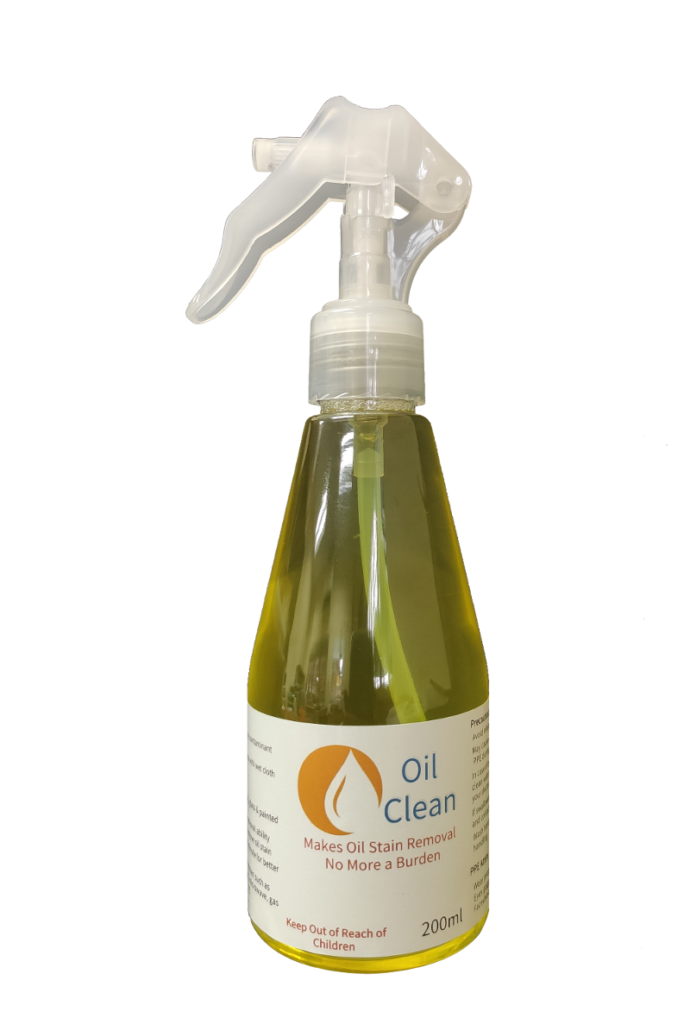 EC Oil Clean Solution is a kitchen spray cleaner which suitable for household kitchen cleaning. The oil stain is accumulated in every part in the kitchen, such as gas stove surface, vacuum hood or cabinet surface. You need a dedicate kitchen cleaner to breakdown the contaminant and remove it promptly.
Oil Clean Solution is an EC brand kitchen spray cleaner with high concentration and solvent-free cleaner is proved to be effective to clean up the kitchen with the simple spray-n-wipe process.
Application of the Kitchen Spray Cleaner
The EC brand Oil Clean Solution cleaner comes in low foam formulation. It could be used as a kitchen cleaning detergent for every family.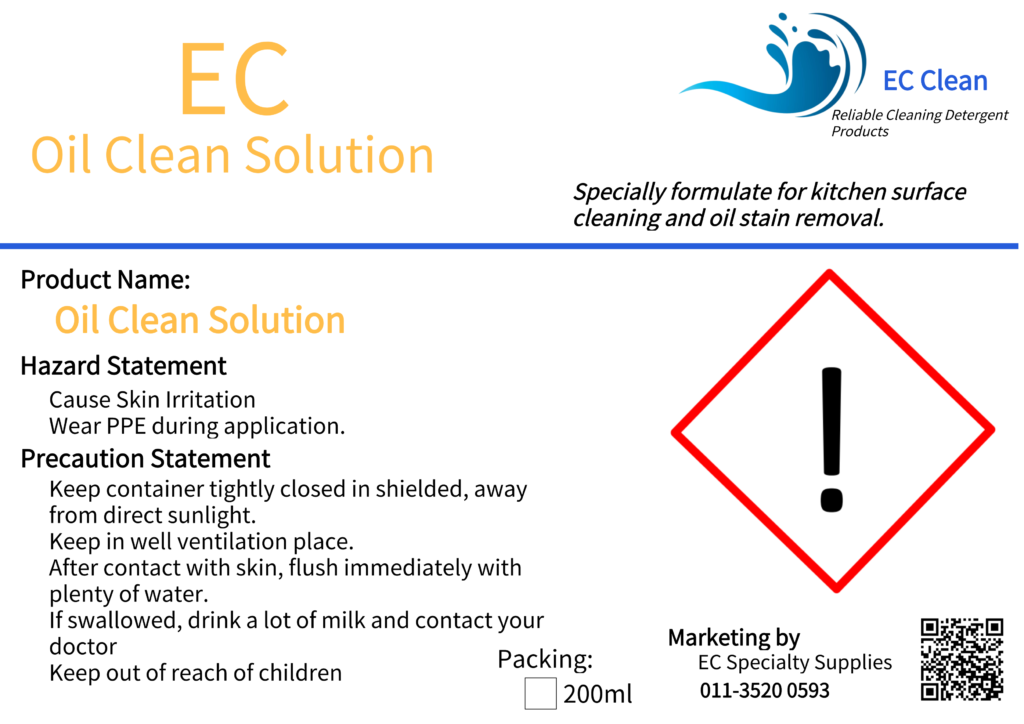 Features
Water-based. This is a solvent-free formulation. The water-based formulation helps the user easy in handling.
Decent Smell. No irritating smell favour to the cleaning process.
Rapid Action. High concentration formulation rapidly breakdown the oil layer on the surface and makes cleaning easy.
Low Foam. Low foaming formulation helps in reducing slippery effect.
Nontoxic and non-corrosive properties. Safe and ease of handling.
Surface friendly. Safe on all glass, metal surfaces, aluminium rail and cabinet surface.
Typical Properties
Appearance. Light brown.
Specific gravity. 1.3
pH. 11 -12
Soluble in water. Good water soluble
Direction of Use
The Oil Clean Solution Cleaner offers a direct application. Application procedure:
Wear appropriate PPE Attire.
Identify the contaminated area or oil stain surface.
Unlock the stop notch.
Spray the solution on the contaminated area.
Wipe off the area with a clean cloth.
Apply Methods
Spray and wipe. Spray the EC Oil Clean Solution Cleaner on the localized contaminated area. Wait for a few seconds then wiping off the area with a clean cloth. Repeat if needed.
Soak and clean. Spray and soak the contaminant component for a few minutes or even hours. Flush the components with city water after the soak. This only applies to the components with the heavy contaminant and detachable.
Available Packing Size
Convenient Packing. 200ml spray bottle
Precaution Statement during Handling
A slippery feeling after getting in touch with the skin. In some occasion, the sensitive skin may occur after a long time in contact. We strongly recommend users to wear appropriate PPE attire during the handling process.
---
Wear rubber gloves and eye goggles during the handling process.
Avoid getting contact with skin or eyes.
While solution spill off, flush the affected areas with plenty of water.
Do not ingest.
Stay away from children.