Spray and Wipe Surface Cleaner Liquid in Malaysia
EC Spray & Wipe Surface Cleaner Liquid is a perfect multi-purpose surface cleaner formulate for general surface spray and wipe purpose. Surfaces with the contaminant and minor oil smear can be easily removed after the spray and wipe process.
Many users have used EC brand Spray & Wipe Surface Cleaner Liquid in general table or work area cleaning. The adequate detergency in the cleaner solution helps in removing surface contaminants.
Application of EC Spray & Wipe Surface Cleaner Liquid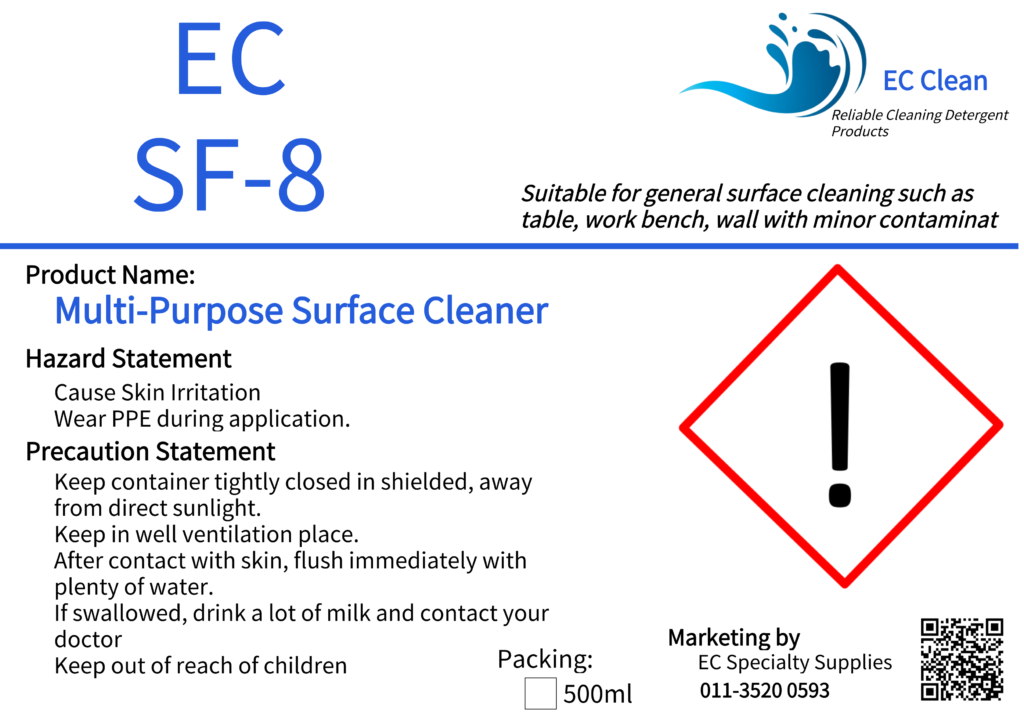 EC Spray & Wipe Surface Cleaner comes with detergency ingredient. The cleaner will breakdown the contaminant's bonding force so that contaminant could be easily removed.
Features
Water-based. This is a solvent-free formulation. The water-based formulation helps the user easy in handling.
Decent Smell. No awkward smell for the surface cleaner.
Rapid Action. The detergency ingredient gives better performance in contaminant removing.
Nontoxic and non-corrosive properties. Safe to use in all hard surface.
Surface friendly. Safe on all marble, tile, granite surface.
Typical Properties
Appearance. Light blue.
Specific gravity. 1.35
pH. 10 – 11
Soluble in water. Good water soluble
Direction of Use
Direct spray the EC Spray & Wipe Surface Cleaner on any hard surface for contaminant removal. The procedure:
Select the nozzle outlet size, Off – Spray – Stream, by turning.
Trigger and spray the cleaner solution toward the surface contaminant.
Wipe the contaminant with a clean cloth.
Repeat above flow if needed.
Apply Methods
Surface Cleaning. Direct Spray the EC Spray & Wipe Surface Cleaner against the contaminant spot. Mop the area with a cloth.
Available Packing Size
Convenient Packing. 500ml Spray Bottlepail
Mass Packing. 5L pail.
Precaution Statement during Handling Surface Cleaner Spray Liquid
In some occasion, the sensitive skin may occur after a long time in contact with skin. We strongly recommend users to wear appropriate PPE attire during the handling process.
---
Wear rubber gloves and eye goggles during the handling process.
Avoid getting contact with skin or eyes.
If solution spill off, flush the affected areas with plenty of water.
Do not ingest.
Stay away from children.