Hand Spray Sanitizer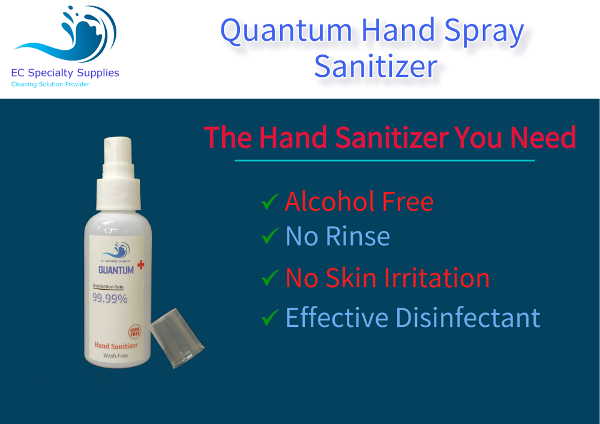 EC Quantum Hand Spray Sanitizer is a perfect disinfectant product especially for those who have sensitive skin on alcohol-based sanitizer. The hypochlorous acid-based hand sanitizer should be your wise choices among so many sanitizer products in current Malaysia market.
The hypochlorous acid is the ingredient for Quantum brand hand sanitizer. This ingredient is an effective antimicrobial substance, it is safe and user friendly. The hypochlorous acid has also been approved by the US FDA & CDC.
Application of Quantum Hand Spray Sanitizer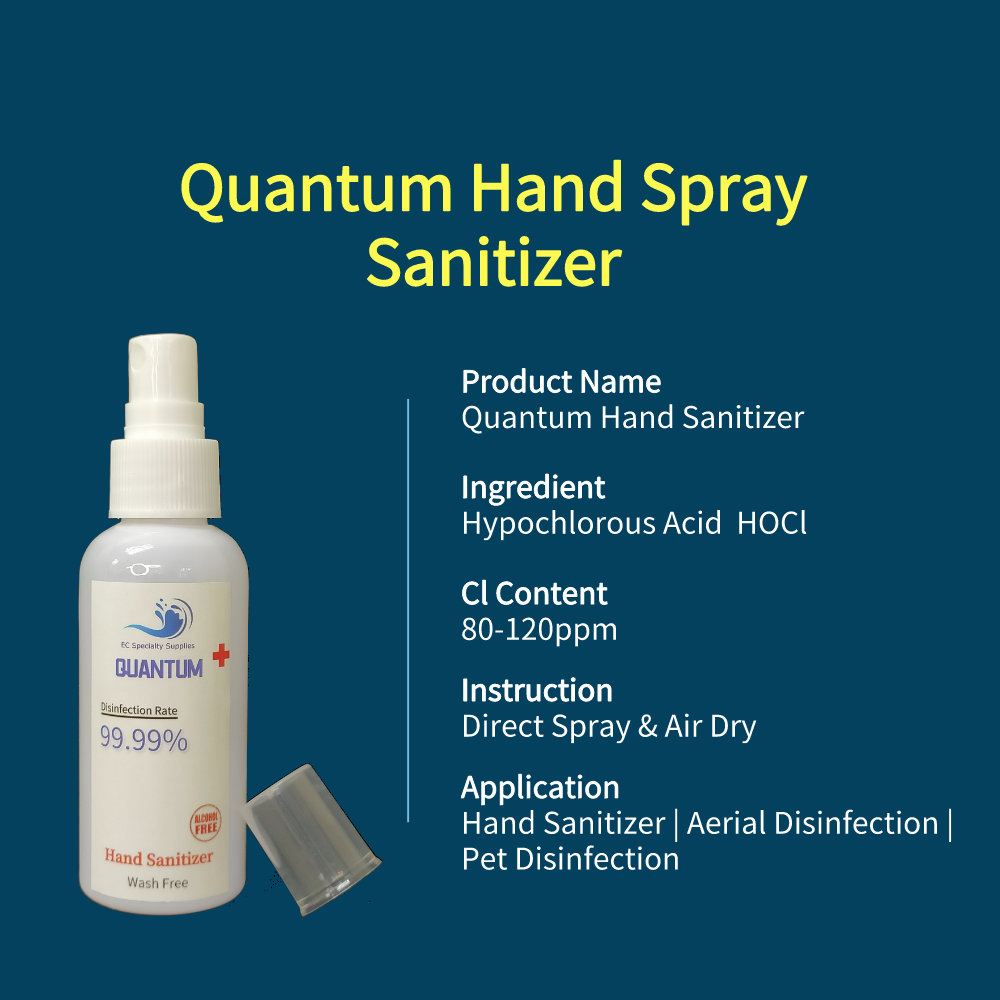 On the other hand, our body also generates its own hypochlorous acid for immune purpose. Perhaps, some ophthalmology also uses hypochlorous acid for eyes lid cleaning.
Features
Safe Ingredient. Hypochlorous acid is an approved sanitize product in the FDA & CDC.
Low Acid. The sanitizer comes in pH 5.5-6.5, similar to skin pH.
Alcohol-free formulation. Alcohol may cause dry skin and pale skin effect.
No awkward smell. No colouration or cheap perfume added. But it comes minor Chlorine smell, something like swimming pool.
Without skin burning feel. Safe and easy during application.
Environment friendly & Effective. Hypochlorous acid will breakdown into the water after exposing in the environment.
Typical Properties
Appearance. colourless.
Ingredient. Hypochlorous acid
pH. 5.5 – 6.5
Direction of Use
Direct application.
Apply Methods
Spray. Spray 3-4 times of sanitizer onto your palm. You will see your palm is wet.
Rub. Rub both hands thoroughly. This includes the palm and back of the hand. Your hand is moistened for now.
Rest. Rest for 10-30 seconds until the hand is totally dry from water moisture.
Available Packing Size
Convenient Packing. 60ml spray bottle
Mass Packing. 500ml bottle.
Precaution Statement
Even though Hypochlorous acid is a non-toxic ingredient, but it is not for food or inhales purpose. Hence, Quantum Hand Spray Sanitizer is built for External Use Only.