Kitchen Spray Cleaner in Malaysia
If you are going to any supermarket in Malaysia, there are various kitchen spray cleaner and household cleaner placed on the goods shelf. Even though they are marked as a kitchen cleaner, unfortunately not all the cleaner perform the same.
In this article, we are going to discuss several kitchen cleaners available in the market now. Furthermore, we will also compare with Oil Clean Solution, the kitchen cleaner from EC Clean.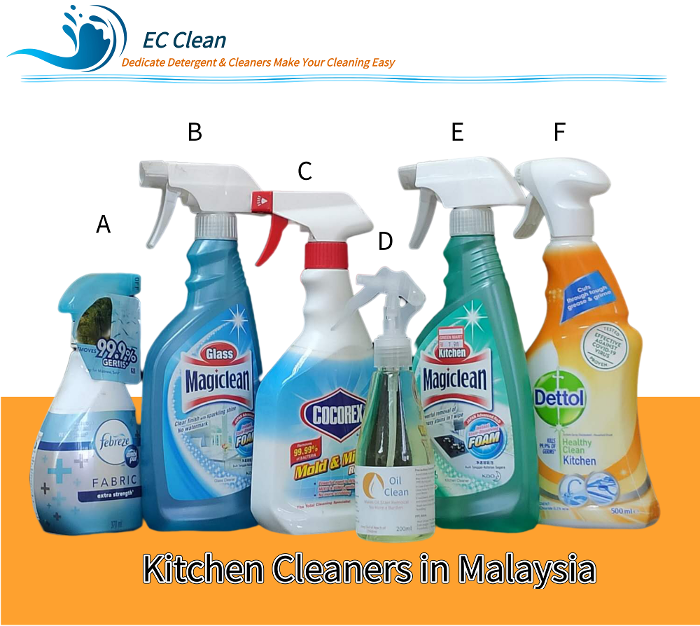 Available Kitchen Spray Cleaner in Malaysia Market
Which Kitchen Spray Cleaners is your favourable products?
There are many detergent or cleaner brands in Malaysia. Every brand has series of detergent products to support customer needs. I would like to list out the top 3 brands which we commonly see in the supermarket.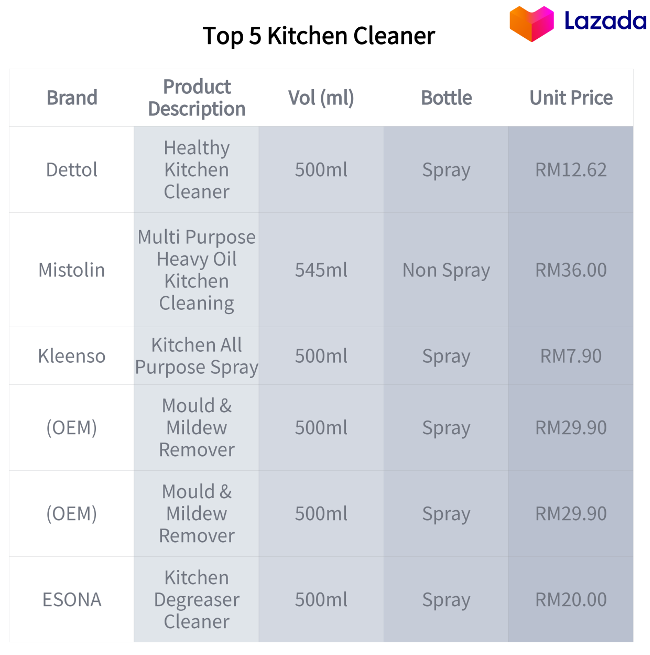 Dettol. Healthy Clean Kitchen.
Chlorox.
Kao. Magiclean
Besides the brand in the supermarket, below is the top 5 Kitchen Spray Cleaner list from Lazada, the famous e-commerce platform in Malaysia. In this Lazada top list, we could notice there are many brands which not commonly see in the shelf. This implies that many families do not satisfy with the current famous kitchen cleaner, they require specific kitchen spray cleaner to perform a better cleaning job.
Why Require Specific Kitchen Cleaner
During the cooking, oil smear will fly everywhere. The cooker hood and gas stove area are the 2 areas always cover with oil stain. Due to the oil stain characteristic, and it gets accumulated over time, the oil stain becomes stubborn to remove.
We have tested several famous kitchen cleaners, those cleaners are good for general surface cleaning in the kitchen. But comes to oil stain remover, it is less effective. Under this circumstance, the family user has to look for other kitchen cleaners to ease the cleaning job.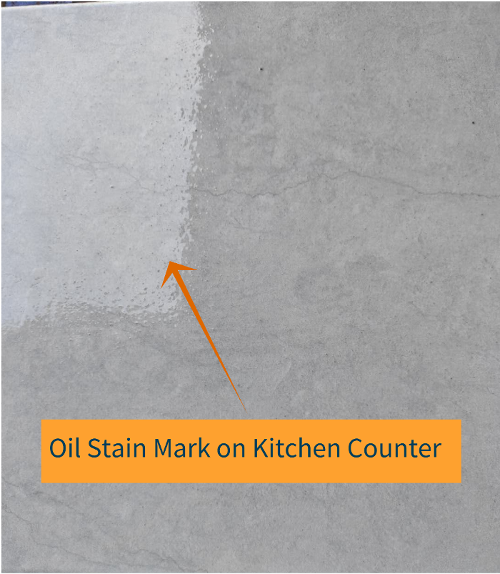 What We Have for Kitchen Cleaning?
Even though there are many kitchen cleaners available in the market, on the other hand, we also recognize there is always an opportunity for better kitchen cleaner. The Oil Clean Solution is a dedicate formulation for a user to clean up their kitchen contaminant. Perhaps, Oil Clean Solution is the best detergent for removing stubborn oil stain mark in the kitchen.
We have seen the user uses the Oil Clean Solution to clean up their aged-long cooker hood, exhausted fan or gas stove. Those are the top hitter areas covered with stubborn oil stain.
If you are not satisfied with the existing kitchen spray cleaner or you want to explore the better cleaner to ease your job. It is time for you to get a bottle of Oil Clean Solution to test it yourselves.